WEST Iowa line: Big Sioux River, 5 miles W of Inwood, Lyon County IA/Lincoln County SD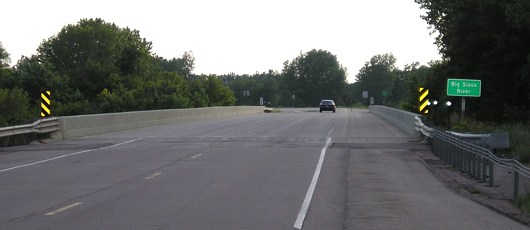 Facing west on 18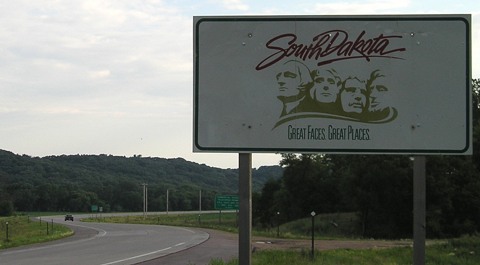 Facing west on 18
It's about 400 miles from here to Mount Rushmore - this sign is actually closer to Dubuque.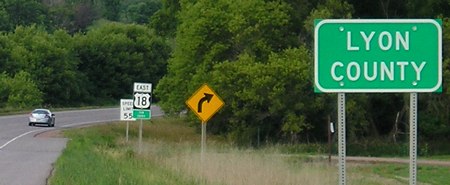 Facing east on 18
Both new and old Lyon County signs are up at the Iowa entrance.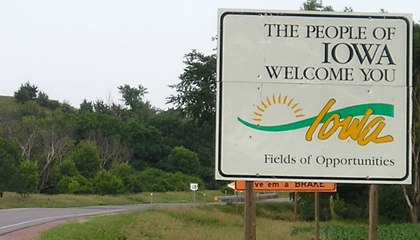 Facing east on 18
Possible WEST End: US 75, near Hull, Lyon County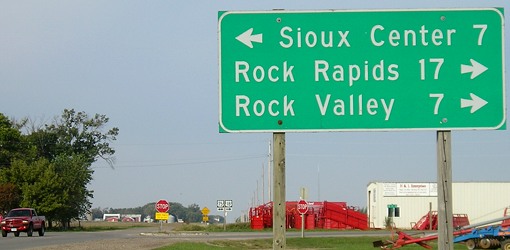 Facing west on 18
In the Bureau of Public Roads' 1925 plan, US 18 went west from Milwaukee through Iowa, but didn't make it to Inwood. As late as early October 1926, South Dakota was asking Iowa to help get 18 extended through the state to US 85. The Highway Commission declined, and Iowa put up US highway shields later that month. It is possible, then, that the signed end of US 18 was first here, with IA 19 continuing to the west of 75. All 1927 maps show 18 extending west from 75, though.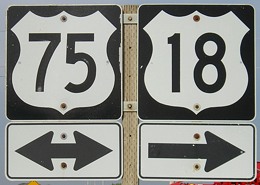 Facing west on 18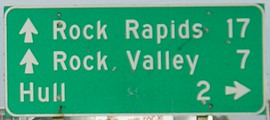 Facing north on 75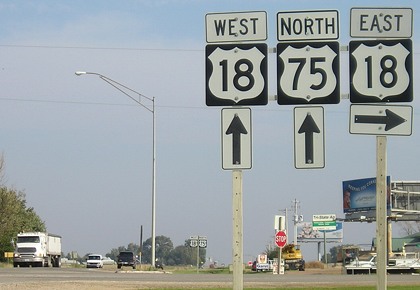 Facing north on 75
Between 1926 and 1930, 18 and 75 went north one mile, then west, and then north to Doon, where they split. It wasn't until 1930 that 18 and 75 were both rerouted in the area to their present alignments.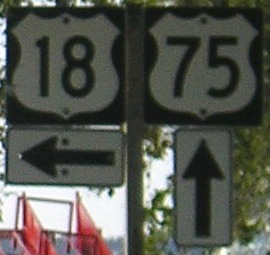 Facing south on 75
Old EAST Iowa line (October 16, 1926-June 7, 1932): Ferry landing, McGregor, Clayton County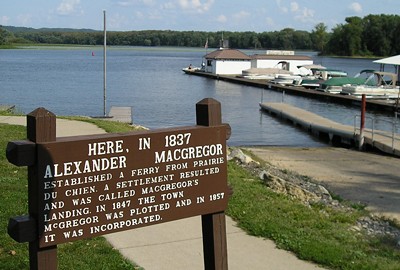 Facing east
This is at the end of Main Street in McGregor, as 18 (now Business 18) turns north toward Marquette and the bridge to Wisconsin. But prior to 1932, this is where the road ended.
Excerpts of articles in the North Iowa Times special section of November 13, 1974, indicate the bridge was open to vehicle traffic on March 10, 1932. However, the Iowa Highway Commission did not extend the US 18 designation from the ferry landing to Marquette until June 7, and the dedication ceremony was June 9 (which is the date given on the bridge plaque on the Wisconsin side).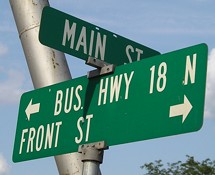 Facing east
OLD East Iowa line (June 7, 1932-November 14, 1974): Mississippi River, Marquette IA/Prairie du Chien WI, Clayton County IA/Crawford County WI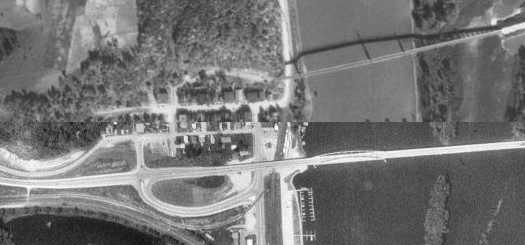 USDA/NRCS/MIT photos
This composite (but not overlapping) photo is split into the 1930s (top half) and 1990s (bottom half). Eastbound US 18 would have come up the road at the bottom of the picture, turned left at the T intersection and gone through the business district, then turned right to follow the road that arcs to the bridge. (The top dark line is the shadow of the old bridge.) The modern US 18 bridge is built where a railroad bridge used to be.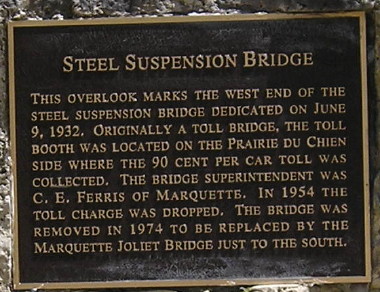 If you follow the road you come to a dead end with this plaque embedded into stone (below) with a view of the new bridge.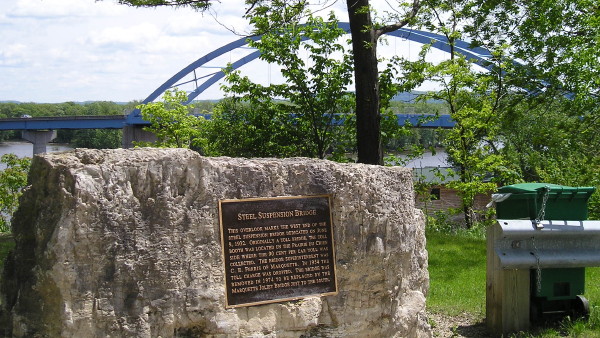 Facing southeast-ish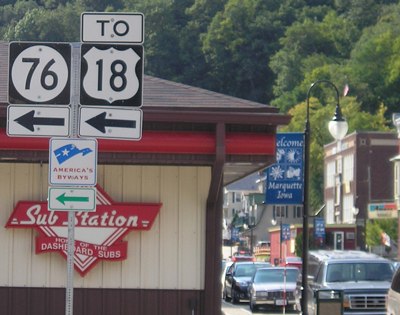 Facing west, but heading south, on IA 76
At this intersection, US 18 would have gone on the road at right. Today, IA 76 turns left (south) and just south of this photo, goes under the current bridge (below), which was completed in November 1974. Demolition of the old bridge was completed in June 1975.
EAST Iowa line: Mississippi River (Marquette-Jolliet Bridge), Marquette IA/Prairie du Chien WI, Clayton County IA/Crawford County WI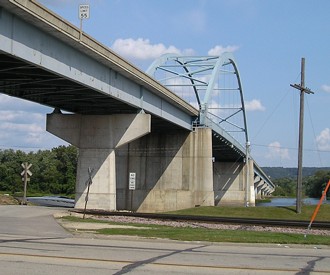 Facing east
The road at ground level is currently IA 76. To the camera's right is an access road up to the bridge, which was built in 1974, 15 years before 18 was built to continue west from here. Until then, bridge traffic would take the access road down here and then turn right to continue on 18 or left to start on 76.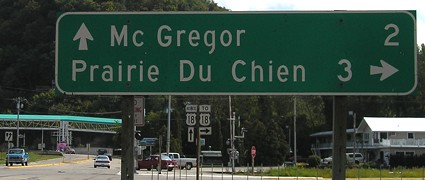 Facing south on 76
This sign is about where the above picture was taken. Compare the mileage to PDC with the sign below, which isn't that much farther away: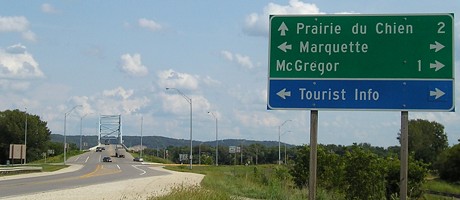 Facing east on 18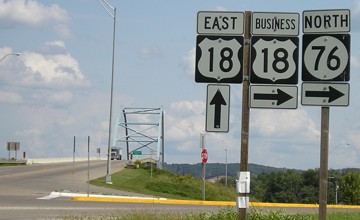 Facing east on 18 (2007)
Before 1989, that truck coming into Iowa would have to turn here to follow 18.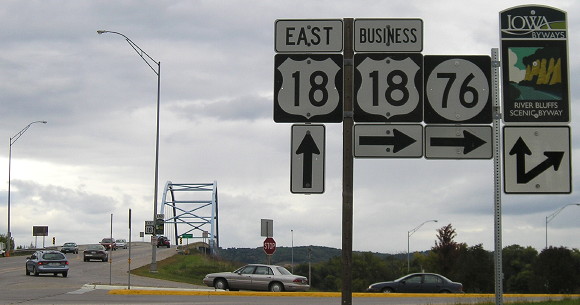 Facing east on 18 (2011)
The River Bluffs Scenic Byway, according to this new marker, goes ahead and along IA 76. But also visible in this picture, enlarged below left, is the sign for the end of the byway. Isn't that a little silly?
A "North" tag is no longer above the 76 shield, which is slightly more accurate since 76 runs north and south underneath 18. It and Business 18 still have straight arrows, while the new River Bluffs arrow is a diagonal (instead of ahead-and-right).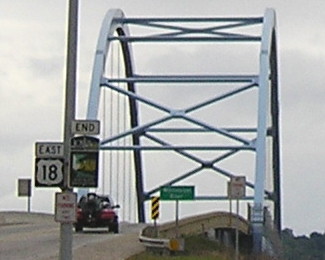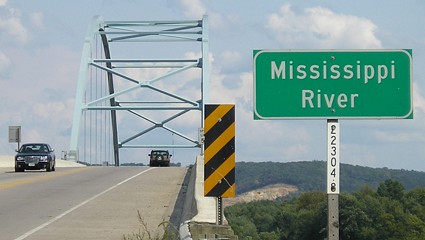 Facing east on 18
The arch only crosses the west channel of the Mississippi, which here is also the state line between Iowa and Wisconsin.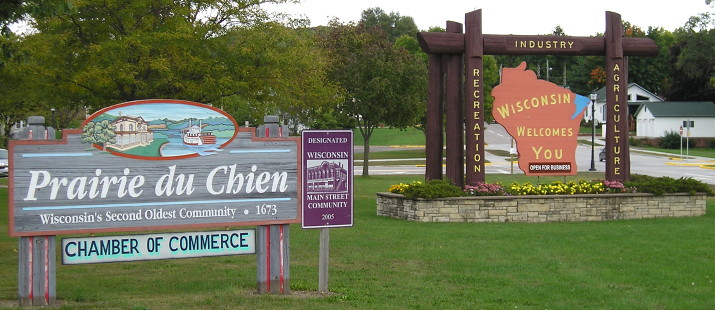 Facing east on 18 after the river crossing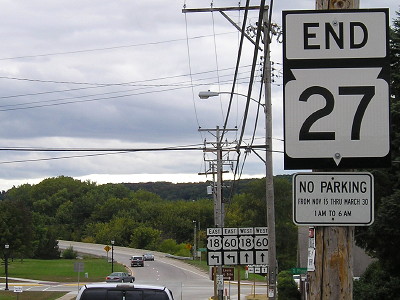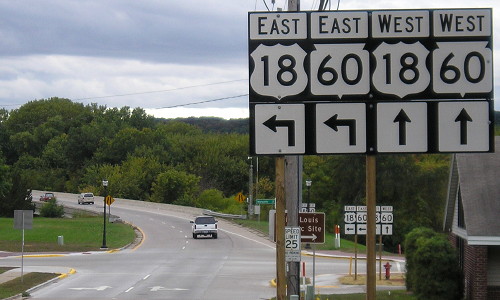 Facing west on former US 18, now WI 27
On Sept. 16, 2011, US 18 was rerouted around the west side of Prairie du Chien. Now its first/last intersection in Wisconsin involves a turn.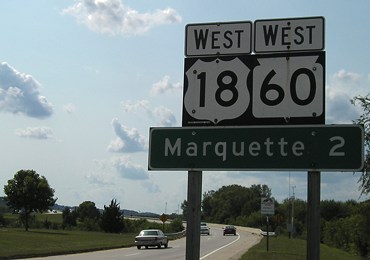 Facing west on 18
This is the last sign on the Wisconsin mainland, about 4/5 mile west of the junction with WI 35. WI 60 tags along with 18 from southeast of PDC to here, so the state line also functions as the end for that route.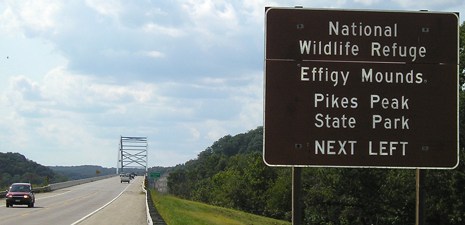 Facing west on 18
Technically, this sign is in Wisconsin.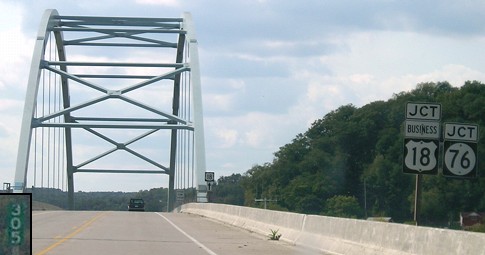 Facing west on 18
The enlarged mile marker is on the bridge itself, right above the top right corner of the inset.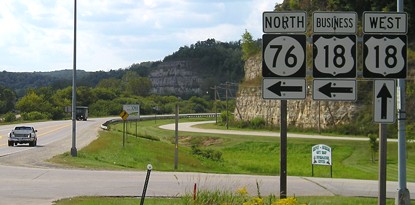 Facing west on 18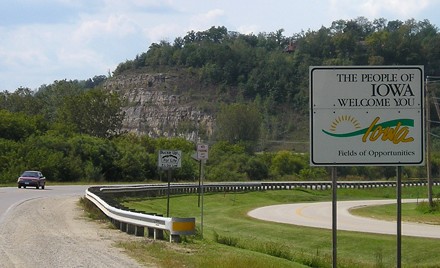 Facing west on 18

Facing west on 18
This Clearview sign is new, but it probably doesn't reflect the change in distance between here and Mason City with the changes in 18's alignment.
Pictures by me: First-fourth, 6/25/06; fifth-tenth, 9/17/07; 14th and 15th, 5/10/10; 11th, 12th, 16th-20th, 22nd, and 26th-31st, 9/7/06; 21st and 23rd-25th, 9/23/11
Page created 12/4/06; last updated 6/15/12