(1962-July 1, 2003)
Old WEST End: Stoplight, First Ave., Iowa City, Johnson County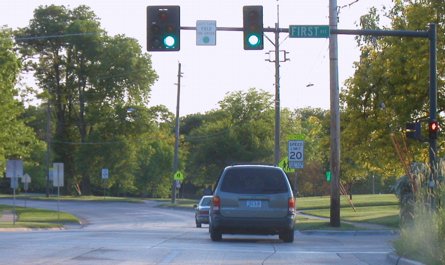 Facing west on 979; note "doghouse"-style light assembly (5/25/03)
Why First Avenue? It's three miles west of MM3, very near the I-80 interchange. First is halfway between IA 1 and the east city limits, which don't appear to have changed since the 1970s. One possibility is that First Avenue might have been the extent of most residential development in 1962, when the road was turned over, although both Iowa City High and Regina schools are on First. I would use topographic maps to confirm or deny this, but as fate would have it, the Iowa City-area maps (the 1:24,000 scale, anyway) are the most recent in all of Iowa, dating to around 1994.
WEST End: I-80 exit 249, Johnson County

Facing west on 979 (5/18/03)
Photo by Jason Hancock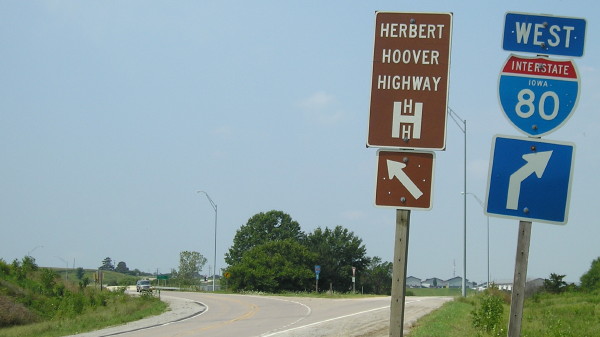 Facing west on 979 (8/8/09)
In order for the interstate to meet the Herbert Hoover Highway, the two-lane road was realigned to cross the interstate in a northeast/southwest manner, most evident in the picture facing east below. This was the west end of 979 from 1987 to decommissioning.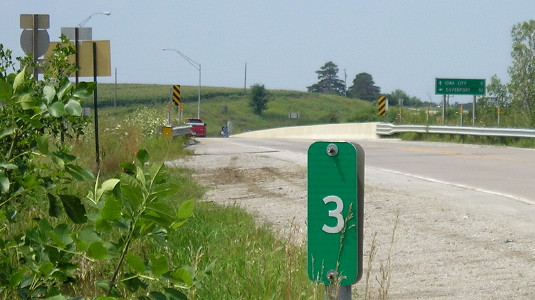 Facing west on 979 (8/8/09)
This is a more curious sight than it first appears: MM3 was visible in Jason's photos from 2003, but this picture shows the mile marker in the Clearview font, which means it was replaced at some point after 979 was decommissioned. (The miles going west trace to the intersection at the top of the page.)

Facing east on Herbert Hoover Highway (5/18/03)
Photo by Jason Hancock
Jason writes, "There may be a goof in this LGS: although you _can_ get to West Branch via I-80, the more direct route would be IA 979 (i.e., the arrow should be slanted to the left instead of the right)."

Facing east on 80 (5/18/03)
Photo by Jason Hancock
EAST End: City limits of West Branch, Johnson/Cedar county line

Facing east on 979 (5/18/03)
The end is here because of the county line, which happens to concur with the present city limits.

Facing west on 979 (5/18/03)
Photo by Jason Hancock
Despite its 50 mph speed limit, this route had been a semi-major one throughout the state's history, a claim that could be proven (or disproven) by its multiple number changes. This nearly-ramrod-straight route between Iowa City and IA 38 was originally part of an IA 74 between Iowa City and Davenport via Tipton. It had become IA 139 by the time West Branch's native son, Herbert Hoover, was elected president. When Hoover left office, IA 1 had been extended along the route from Iowa City to 38. Present-day IA 1 did not become improved and a state highway until the early 1930s, which is exceptionally ironic since 1's general route between Iowa City and Anamosa was part of the first Military Road nearly 100 years prior, before Iowa was even a state. After 1962, when 1 was rerouted north, this road became 979, an 'unmarked primary' between Iowa City and 38.

Facing south at the county line (5/18/03)
Photo by Jason Hancock
This road dead-ends before it reaches the interstate. Its "Level B Service" is curious because down this road to the left are athletic fields (not the high-school ones) for West Branch High School, which appear to have no access otherwise.
Naturally, a page that involves West Branch should involve plugs for the Herbert Hoover National Historic Site and Presidential Library and Museum, located in West Branch. He and his wife, Waterloo-born Lou Henry, are buried there. Despite this, and Iowans' inclination to both honor him and defend his presidency, Hoover only lived in Iowa until he was 11 years old; after that, he lived all over the world. (Yet another case of Iowans honoring people who became famous elsewhere but happened to be born in the state, although Hoover's birth west of the Mississippi was a historic first for U.S. presidents.)
Page created 1/10/05; last updated 2/14/14