(1959-July 1, 2003)
WEST (or NORTH) End: Stop sign/T intersection, IA 141, near Dedham, Carroll County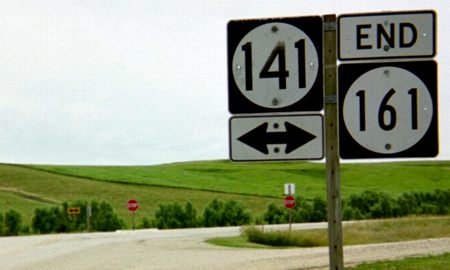 Facing west on 161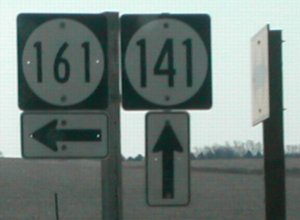 Facing east on 141
Photos by Neil Bratney
Neil says 161 turns left 45 degrees so it can intersect 141 perpendicularly. The road is a small route in and out of Dedham, designated in 1959 when 141 was rerouted on a diagonal southwest of the town. Like IA 410, it travels the same distance east-west as it does north-south; here it's 0.6 miles apiece. According to 2002 construction logs at the Iowa DOT library, the east-west segment of IA 161 was paved in 1931 - and never touched again. This would put it in a tie for fourth place for the state's oldest pavement in use as of 2002, along with IA 238, and 161 has the old raised "Iowa curbs" on it to boot. The north-south segment was paved in 1951, the same year IA 141 was realigned around Dedham, and never touched since either.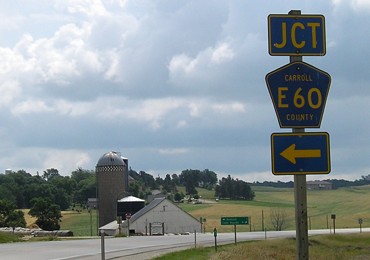 Facing east on 141, post-decommissioning
Along the route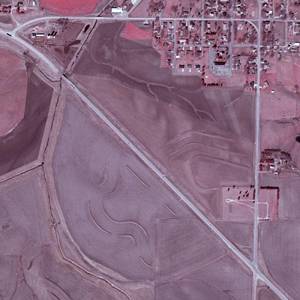 Entire route of 161 (USDA/NRCS/MIT via ortho.gis.iastate.edu)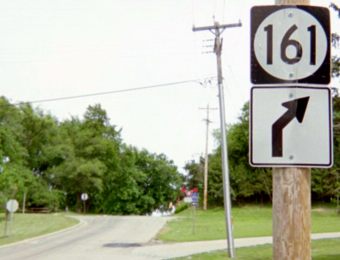 Facing east on 161
The separate curve here shows the former importance of the intersection as 141 used to turn here.
EAST (or SOUTH) End: Stop sign, IA 141 and N36, near Dedham, Carroll County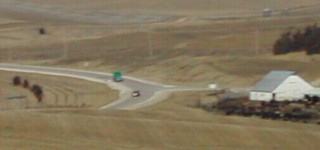 Facing northwest
Photo by Neil Bratney
From this vantage point at 161's other end at the top of a hill, you can see 161's west end. It's almost sad, really, when you consider the fact that the first 161 in Iowa, US 161, went from Dubuque to Keokuk (today's US 151 and 218) and was a major route, and then the number was reduced to a tiny spit of road.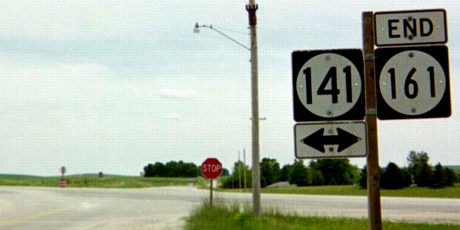 Facing south on 161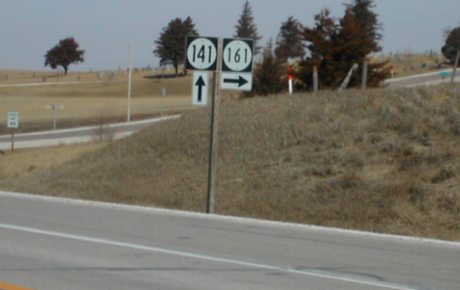 Facing (north)west on 141
Photo by Neil Bratney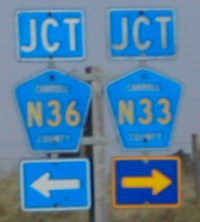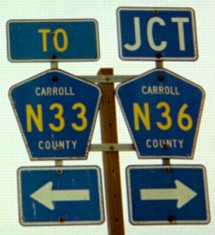 Facing (north)west on 141 / Facing (south)east on 141 - pre-decommissioning
Left photo by Neil Bratney
It's very rare for two county roads with different numbers to end at the same intersection. (So rare, in fact, that the only others I know of are N41/N44 (old IA 286) in Glidden, Y14/Y24 in Lowden, and Y32 and Y4E in Wheatland, all at US 30.) What makes this stranger is that N33 is not its own road, but is duplexed with 161 north of here until 161 turns west; this may explain the different signage in the other direction. After decommissioning, the signs in these pictures were replaced.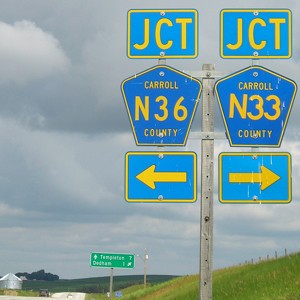 Facing (north)west on 141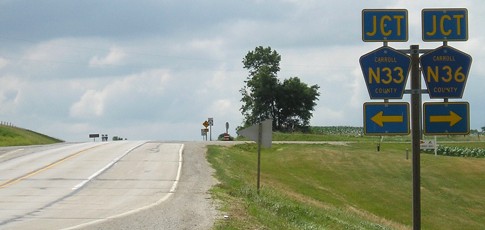 Facing (south)east on 141
Last seen: 2003

Pictures by Neil Bratney: Second, fifth, seventh, and eighth, 3/26/02
Pictures by me: First, fourth, sixth, and ninth, 6/29/03; third, tenth, and eleventh, 6/25/06
Page created 5/23/02; last updated 5/22/07